IN MY HOUSE
IN MY HOUSE

INTRO:
GIVE YOU ALL THAT YOU NEED
(that you need babe)
YOU GOT A VIP
Come on in babe
YOU GOT A VIP
In my house, in my house
IN MY HOUSE
WHERE LOVE IS SERVED
GIVE YOU ALL THAT YOU NEED
(give you all the you that you need babe
hey yeah)
YOU GOT A VIP–COME ON IN

Come on in
All on in
In my house
In my house, in my house

BRIDGE:
GOT A VIP FOR YOU BABE
says closed to the rest
IM FEELING SO DRAWN TO YOU BABE
like a woman posessed
RISE INSIDE MY GROOVE BABY
from the rhythm's caress
I'LL GIVE YOU WHAT YOU NEED
MY LOVE WILL BE YOUR COMPANY

GOT A VIP FOR YOU BABE
says closed to the rest
IM FEELING SO DRAWN TO YOU BABE
like a woman posessed
RISE INSIDE MY GROOVE BABY
from the rhythm's caress
I'LL GIVE YOU WHAT YOU NEED
IN MY HOUSE

CHORUS:
GOOD TIMES YOU SEEK
come to my house
MUSIC RELEASE
here in my house
NEW ENERGY
lives in my house
in my house
in my house

WHEN THINGS GET ROUGH
come to my house
SOMEONE TO TRUST
here in my house
ALWAYS ENOUGH
live in my house
IN MY MY MY MY
MY MY MY MY

(come in)
GOOD TIMES YOU SEEK
(come here)
come to my house
(come in)
MUSIC RELEASE
(come here)
here in my house
(come in)
NEW ENERGY
(come here)
lives in my house
(come in)
in my house
(come here)
in my house

(come in)
WHEN THINGS GET ROUGH
(come here)
come to my house
(come in)
SOMEONE TO TRUST
(come here)
here in my house
(come in)
ALWAYS ENOUGH
(come here)
live in my house
(come in)
IN MY MY MY MY
MY MY MY MY
**repeat

YEAH BABE
YEAH BABE YEAH BABE YEA

BRIDGE:
GOT A VIP FOR YOU BABE
says closed to the rest
IM FEELING SO DRAWN TO YOU BABE
like a woman posessed
RISE INSIDE MY GROOVE BABY
from the rhythm's caress
I'LL GIVE YOU WHAT YOU NEED
MY LOVE WILL BE YOUR COMPANY

GOT A VIP FOR YOU BABE
says closed to the rest
IM FEELING SO DRAWN TO YOU BABE
like a woman posessed
RISE INSIDE MY GROOVE BABY
from the rhythm's caress
I'LL GIVE YOU WHAT YOU NEED
IN MY HOUSE

CHORUS:
(come in)
GOOD TIMES YOU SEEK
(come here)
come to my house
(come in)
MUSIC RELEASE
(come here)
here in my house
(come in)
NEW ENERGY
(come here)
lives in my house
(come in)
in my house
(come here)
in my house
(come in)
WHEN THINGS GET ROUGH
(come here)
come to my house
(come in)
SOMEONE TO TRUST
(come here)
here in my house
(come in)
ALWAYS ENOUGH
(come here)
live in my house
(come in)
IN MY MY MY MY
MY MY MY MY
**repeat

OUTRO:
YEAH YEAH YEAH
YEAH BABY YEAH
YEAH YEAH YEAH
COME ON IN BABY
Lyrics

1. IN MY HOUSE
ALDO BERGAMASCO FT. TOMMIE COTTON
MNL030
ALDO BERGAMASCO FEAT. TOMMIE COTTON – IN MY HOUSE
OUT NOW !!!
BUY ON TRAXSOURCE!!!!!!!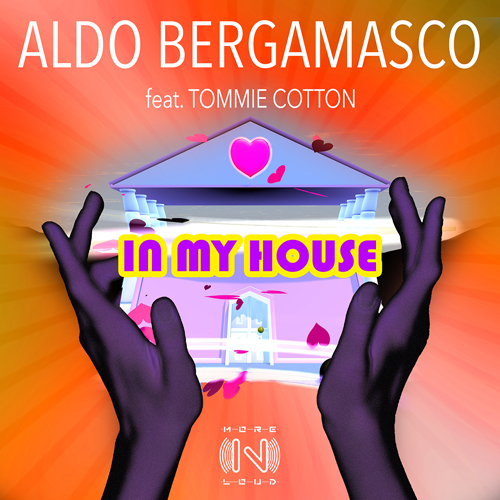 Tommie Cotton from Ohio makes her Morenloud Records debut with this powerful soulful house single entitled "In My House" produced by Aldo Bergamasco (aka Astralbody). This release will definitely get the dance floor moving and grooving!!!
We have included the Acapella in case you want to do your own remix and submit it to the label or to use it in your DJ sets!
CREDITS
Written and produced by Aldo Bergamasco @ Theatre Studio
Vocals by Tommie Cotton
Label & Publishing by Morenloud Records
RELEASE DATE: 2017/04/28
WATCH THE VIDEO
| | | |
| --- | --- | --- |
| ALDO BERGAMASCO FEAT. TOMMIE COTTON – IN MY HOUSE | | |